A serial entrepreneur, Khaled Mazeedi is a founder and investor in multiple ventures. Bitcoin, however, has ended up being the best investment decision he's made.
Mazeedi admits it was an intuitive investment, purchasing his first Bitcoin in 2015 at a price of just $280. Mazeedi said he made his first investment in cryptocurrency without much hindsight, and, as he puts it," just had a gut feeling that one day it would be worth a lot more." In early September 2017, when Bitcoin first broke the USD $5000 threshold, Mazeedi soon realized his total investment could bring a return in the eight figures if the growing trend continued. It was then that he believed cryptocurrency was indeed a lucrative investment that could pay off for decades to come.
Today, Mazeedi's initial purchase of over 1,000 BTC has increased considerably in value. He's leveraged his profits to make large trades in cryptocurrency by buying more when prices were low, and to ride the upwards waves and 'hodl', with several trades netting Mazeedi a profit of over $1 Million USD. Each.
With just a fraction of his profits from his initial bitcoin investment, Mazeedi purchased a Lamborghini for just USD $5000; the equivalent dollar amount he'd paid for Bitcoin in 2015. Instead of selling his coins and exchanging them to fiat, Mazeedi made the entire purchase with Bitcoin – handing over a Trezor cold storage wallet within an envelope marked "Lamborghini " to Sanam Cars, a luxury car dealer in Dubai, where he made his purchase.
Despite the Bitcoin Lamborghini memes that warn against buying a supercar with Bitcoin – hardcore enthuasiasts make these memes to encourage fellow Bitcoiners to hold long term in hopes in order to create scarcity so that the currency will keep appreciating – Mazeedi purchased the car anyways.  Regardless of how much his purchase may end up costing in the future as Bitcoin's value goes up, Mazeedi quips, "Bitcoin doesn't define me; Lamborghini doesn't define me; I define what's valuable to me."
On his instagram page @ten, Mazeedi is often seen with a number of influential blockchain experts including Moe Levin, known for popularizing Bitcoin through the eponymous Keynote cryptocurrency conferences, and Dr. Petar Stojanov, a government advisor on blockchain technologies in the Middle East.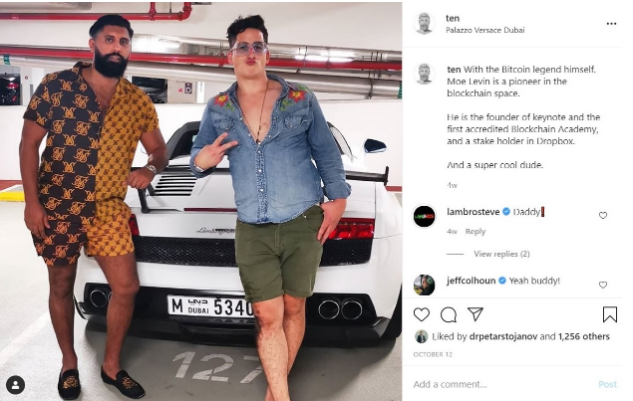 The duo have been key advisors in the launch of Mazeedi's fintech company Bullion Debit, an ultra-exclusive, referral-only privilege program, known around the globe for their unique hallmark; bespoke metal credit and debit cards.
A long time in the making, Mazeedi recalls the years leading up to his Bitcoin investment and Lamborghini purchase. He said he was in the market for a Lamborghini in the past — before his investing in bitcoin — and that he always knew that he would eventually own the supercar.
"I'm a big believer in blockchain technology and digital currencies, investing in Bitcoin was a good move, but if it wasn't Bitcoin it would have been something else" says Mazeedi.
While Mazeedi may be the first Lamborghini owner to purchase the supercar with Bitcoin, in 2018, automotive magazine Motor1 reported on a Bitcoin investor who took his earnings to Pagani Newport Beach in California, and bought a pair of hypercars; a 2018 Bugatti Chiron and a Pagani Huayra Americano. The Bitcoin transaction for both vehicles was just over 450 BTC; a rate of $6 Million at the time of purchase.
When Reddit users suggested Mazeedi to replace Vitalik Buterin in the famed 'Bitcoin Lamborghini' meme, Mazeedi notes, "I invest in and create digital currencies and financial technologies because I want to. I have no interest in such trivialities; but it was pretty funny."
Following Mazeedi's example, crypto investors are increasingly turning their newly-minted winnings to purchasing supercars, bucking the tradition of 'HODLing'. As Mazeedi continues to pioneer the example of transitioning crypto profits to real businesses and rewards, his example serves to open the market to a whole new group of investors looking to strike crypto gold.