Animoca Brands, a development company leveraging gamification, blockchain, and artificial intelligence technologies and its subsidiary TSB Gaming, a creator of world-building experiences, announced today that the second round of the LAND presale for its forthcoming decentralized blockchain gaming platform The Sandbox, totaling 6,192 unique LAND parcels, generated 800 ETH of sales within hours of opening and is now almost sold out.
Ten limited edition user-created game ASSETS (items or digital collectible NFTs) are also available for purchase in the marketplace until February 26th, or until stock is depleted.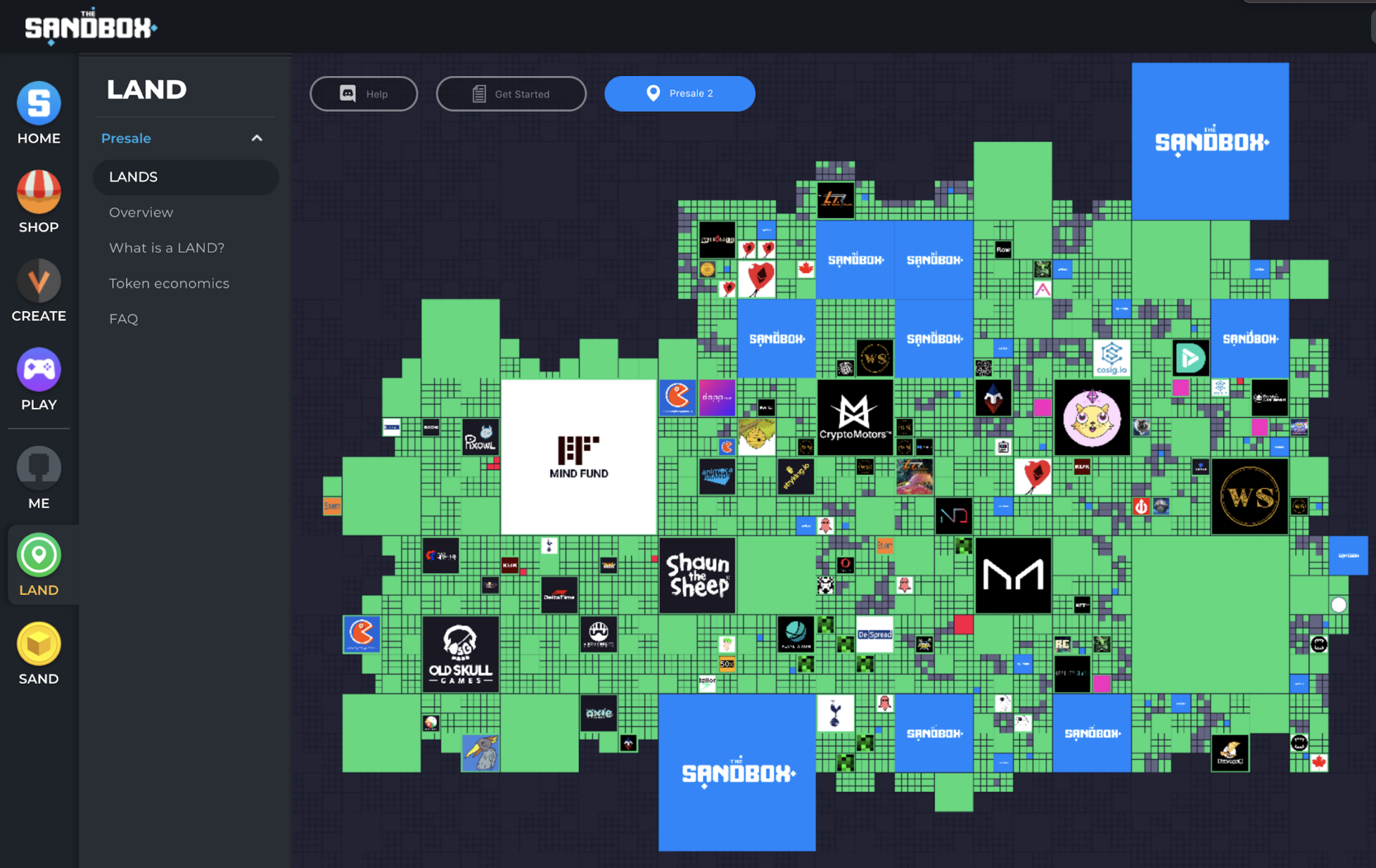 The Sandbox vision is to provide a blockchain Metaverse where players can build, own, and control a decentralized, player-run set of gaming worlds. The platform aims to reach millions of users, offering true ownership and value for players and their creations through an environment that facilitates collaboration and sharing. LAND makes up the individual blocks of the game world that can be purchased and owned by players and accessed through a virtual map where the locations of LANDs and proximity to larger Estates and key positions will play a role in the gameplay, economy, and visibility of games. LAND will have the capability to be rented out to other players, and owners can invite other creators into their LAND to help create an experience collaboratively. Players can combine LANDS into a larger shared space to create a richer, larger gaming or social experience.
"The future of gaming will be real auctions for virtual assets. Players will be able to travel the Metaverse in style with their customizable avatars without restrictions."
– Arthur Madrid, CEO & Co-Founder of The Sandbox
LAND presales offer players, creators, and crypto enthusiasts the chance to obtain a piece of The Sandbox metaverse at a favorable early adopter price. During the event, participants buy LAND (with ether), and purchase exclusive ASSETS, which are NFT game items such as characters, animals, monuments, buildings, trees, and tools to populate game experiences.
LAND Token
Players can benefit from LAND ownership in multiple ways, including by monetizing game experiences on their LAND, developing virtual real estate, renting their LAND, and staking.
The first LAND presale for The Sandbox was held in December 2019 and offered more than 3,000 LANDs that sold out in 4 hours. The second presale opened February 11th, 2020 and offered 6,192 LANDs (representing 5% of total parcels available for sale on The Sandbox map) and is nearly sold out after one day. This confirms the strong interest from gamers, creators, and artists for the decentralized gaming platform that will empower creators through the use of blockchain technology and non-fungible tokens.
"The success of the first two presales of The Sandbox strongly validates our approach to building a gaming metaverse, showing the growing interest from creators and gamers in the benefits of true digital ownership that will allow them to monetize their future creations within an open economy. We can see without any doubt that users are ready to jump into our vision of the Metaverse".
– Sebastien Borget, COO & Co-Founder of The Sandbox
There are 166,464 LANDs in The Sandbox, with the scarcity and uniqueness of each LAND verifiable through blockchain technology. Each of the 166,464 LANDs is tokenized as an ERC-721 non-fungible token (NFT) that uses the transparency of public distributed ledger technology to track its uniqueness and enable true digital ownership, including the ability to sell or rent out LANDs.
The Sandbox will offer a persistent, interactive virtual metaverse, a 3D voxel universe created by players and secured through blockchain technology. LANDS are the unique digital locations in this universe where players can build and monetize games. They are the fundamental building blocks upon which game ASSETs (items and scripting) can be imported to create original interactive experiences. LANDs can be combined into larger groupings (ESTATEs) to permit more ambitious game experiences.
Partnerships
For the first presale, the Sandbox team secured several partnerships from major brands such as Shaun the Sheep and award-winning mobile game studios including Old Skull Games. Additionally, top decentralized games like MyCryptoHeroes, Axie Infinity, CryptoWars, Battle Racers and industry partners such as Klaytn, OpenSea, Bitski, Dapp.com, and DappRadar have also partnered with The Sandbox to collaborate and/or establish interoperability with their platforms and games.
For this second presale, the Sandbox team announced the support of 19 key partners including widely known crypto companies MakerDAO, CryptoKitties, Flow, Dedalord, Token Pocket and Matic, global tech brands such as Opera, and blockchain games and companies including Planetarium, Light Trail Rush, Stryking Entertainment, CryptoWars, Reality Clash, Crypto Sword and Magic, Ember Sword, PlayDapp, Blockchain Cuties Universe and Neon District.
Also participating were organizations that raise awareness around blockchain technology, including NFT.nyc and Blockchain Game Alliance. These partners secured their own virtual real estate in The Sandbox metaverse and will be among the first to offer multiplayer social experiences upon the public launch of the platform.
In the near future, The Sandbox will announce the third LAND presale.
The Sandbox game franchise is one of the world's largest independent user-generated content and gaming platforms, with 40 million downloads and over one million monthly active users. The platform's vision is to offer a metaverse in which virtual worlds and games will be created collaboratively and without a central authority. Because game ASSETs are blockchain-backed digital assets, tokenized as NFTs that are tradeable on a free and open decentralized marketplace, players can enjoy the permissionless transfer of their assets from one game to another while retaining digital scarcity, security, and authenticity. The Sandbox offers rich, easy-to-create voxel worlds and game experiences and the ability to safely store, trade, and monetize creations through blockchain, allowing creators to benefit from their creations.
The Sandbox is expected to launch later in 2020, and more information will be revealed in the coming weeks and months.