Crypto exchange CEX.IO today announced ETH/USD margin trading has been introduced following numerous requests from users. This is the fourth pair for trading with 1:2 and 1:3 leverage on the exchange, after BTC/USD, BTC/EUR and ETH/BTC.
Margin trading allows users to trade more than they would be able to trade using deposit funds only, and that can result in a higher profit.
A forgiving feature of margin trading on the CEX.IO platform is a risk-preventing system guaranteeing that trading cannot move your balance to negative values.
Other benefits of margin trading on CEX.IO are the following:
Guaranteed stop loss. The system reservices part of the order book so that positions are closed at price, not worse than the stop-loss price.
Automatic funds borrowing. You do not need to borrow funds in advance. Funds borrowing is done together with position opening.
No extra accounts. It doesn't require any additional accounts for margin trading. You can use your ordinary account to trade with leverage.
Efficient fees. Rollover fee (fee for prolonging position) is charged only while a position is opened and not charged for the first 4 hours.
To trade with leverage, simply proceed to Trade Page, select the trading pair (ETH/USD, BTC/USD, BTC/EUR, ETH/BTC) and click on the Margin Trading tab.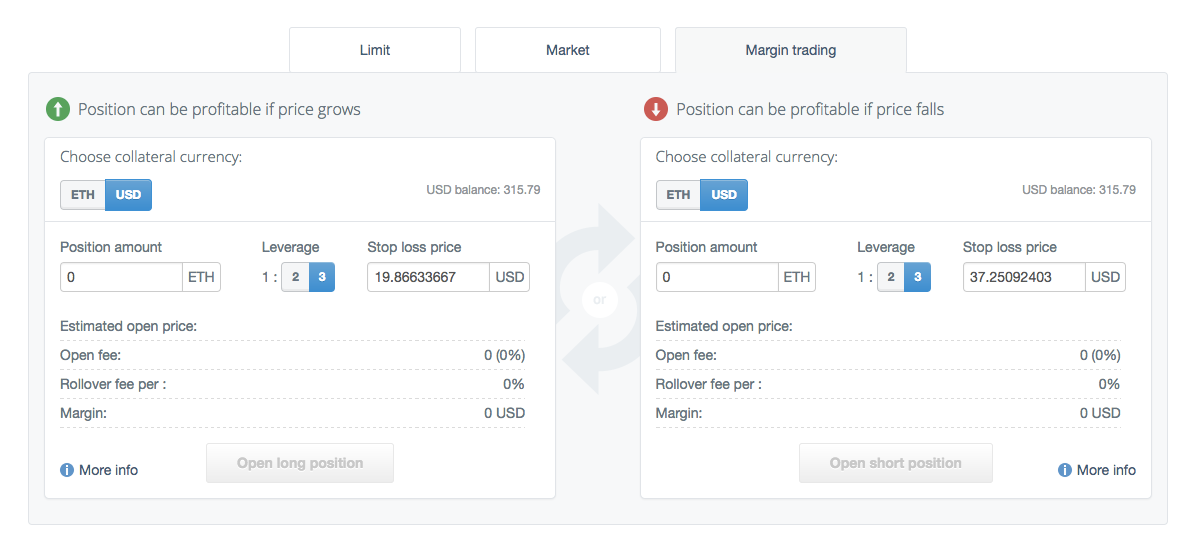 CEX.IO stated they believe ETH/USD margin trading will drive the ETH market movement and this update is a part of its market development program. The exchange finished their update by saying they are now focusing on improving trading features by adding more tools and introducing margin trading for other pairs as well.