bitHolla, a provider of white-label crypto exchange technology, has announced today that version 2.1 upgrades for HollaEx Kit, the company's white-label cryptocurrency exchange software – are now live. Further, the company has reported a significant milestone, now with over 100 exchanges using HollaEx.
"At bitHolla we've made big strides with exchange infrastructure with HollaEx Kit and now we've got a new 2.1 update to announce. In kit 2.1 crypto builders can do even more with their crypto exchange like being able to add more coins to their exchange, with more blockchain networks to select from, and an even better trading UI and UX — this white-label crypto kit just keeps on giving!"
– The bitHolla Team
Highlights of HollaEx Kit 2.1
FULLY FEATURED CLOUD EXCHANGE PLANS
All cloud exchange users that were on previous plans 'Pro' and 'Standard' will now be automatically upgraded to the new fully featured 'Crypto Pro' plan and will include one month free of charge.
Cloud exchange operators can now pick from plans that are purpose-driven and is different from how plans worked before which were feature-driven. The big advantage with the new cloud exchange plans is that all features will be included in the Crypto Pro and Fiat Master upgraded plans.
The only major decision that has to be made is if the exchange is going to be a crypto-only exchange or a fiat currency compatible exchange. Note, the Basic plan will remain as it is, a quick start, low-cost exchange plan with bare-bones features like built-in domain and customizations.
DIY exchanges need not worry about the cloud plans and still can enjoy the free and flexible model of the HollaEx Kit as it is today. DIY users can just plug and trade all major coins and those coins markets will have inbuilt liquid markets like BTC/USDT.
UI & UX UPGRADES
HollaEx Kit 2.1 features a new and polished UI and UX. The default kit UI has more interactive feedback on key elements such as on the orderbook. The overall layout has also been reworked to make the trading experience more intuitive.
There have also been other minor facelifts like adding card/panel backgrounds and extra color hover depths to the exchange.
One easy to recognize UX update is the improved navigation. There will be an account sidebar with all the pages that concern the user. Also, there is an announcement bar on the top bar which will allow operators to deliver a message to their users in a clean way.
The UI update also includes more color opacity variance to help soften some of the harsh colors of text and divider lines whilst still keeping the 17 color theme system that is easy to edit. Further, everything from text and graphics can be changed. operators of the kit can reskin it as needed.
CONSOLE FOR INJECTING HTML
The code injected via console is a high-precision feature for when operators want to apply a little tech know-how. Simply input code, small or big, and the changes will automatically be added to the platform.
Like other web builders, operators can simply put the code in either <HEAD> and/or <BODY> and publish the changes which will appear fast and live on the exchange.
This is useful for adding extra services on top like a chat service to support customers or outside analytics tools to help you understand what is happening on the platform.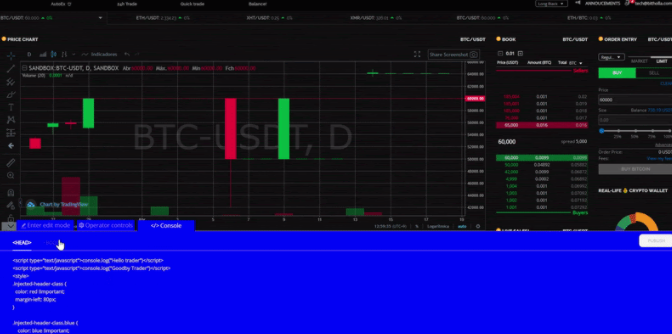 BACKUPS AND EXCHANGE LOGS
Version 2.1 now includes downloadable logs and a backup database button, operators can have peace of mind that their exchange is secured.
For exchange businesses, they can request a database backup of their exchange, and once fully loaded – a unique download link will be sent directly to their email. Logs work the same way, just define the log timeframe that is needed and a link will be sent to the exchange operator.
ADD A LANDING HOMEPAGE
Now, instead of showing users the login onboarding screen first, operators can show a homepage. All upgraded plans like Crypto Pro and Fiat master plans can better introduce their crypto platform to their users by activating the homepage.
The homepage currently has 3 sections that can be included.
Intro text that can be edited like the rest of the text in the kit.
Coins/markets list.
A quick trade calculator.
Rearranging the order of the sections and making background edits are some of the first editing features that can be done on the landing page with more to come.
"Operators can still use an outside web builder like WordPress and in fact, we highly recommend this if resources can be allocated to that, but having an inbuilt homepage will allow for fast and cost-effective communication of the crypto project right away."
– The HollaEx Team
TRC-20 AND BEP-20 BLOCKCHAIN NETWORK CONNECTED
The TRON TRC-20 blockchain is now supported as well as the Binance BEP-20 blockchain. This means depositing and withdrawing is now possible with all coins on those networks.
For those creating new tokens and coins on these blockchain networks, they will now be able to add their TRC-20 and BEP-20 coin to the HollaEx Network; allowing not only them to add their coin to their exchange but it allows other exchanges within the network to add the coin too.
This also means that for coins that are on multiple networks such as USDT – there will be the option to select exactly which network to deposit and withdraw from.
NEW CRYPTO ASSETS
For those running their own crypto project, operators can now offer users XTZ, UNI, TRX, ADA, DOT, DOGE, LTC, USDC, and DAI.
For exchange operators and traders, there will be new tradable markets ETH/BTC, XTZ/USDT, UNI-USDT, TRX/USDT, ADA/USDT DOT/USDT, DOGE/USDT, and LTC/USDT.
MORE LOCALIZED
This upgrade offers more languages with the addition of Arabic and Portuguese. Users will be able to select these languages within the settings page. Operators can also easily switch the default language for their exchange within the strings and language editor.
BUG FIXES AND GENERAL STABILITY IMPROVEMENTS.
The kit has fixed various bugs and improved the stability so that operators need not worry about all of the technical blockchain stuff. Version 2.1 provides for faster execution speeds, fewer errors, and more efficiency. All the improvements behind the scenes allow crypto builders to focus on business.
IN THE PIPELINE
Requested features coming soon include an SEO tool that will allow operators to add keywords to help their exchange website get found and ranked high on search engines. In the meantime, using the new HTML console for injecting SEO.
Finally, new tools will be available to help diagnose problems with an exchange, this can help a lot with the difficulties new operators experience when trying to connect domains and other issues. This will work similarly to other troubleshooting tools, effectively giving suggestions to help get the crypto exchange live.
---
Want to start your own crypto exchange today? Start for free here or get a free exchange consultation by contacting sales@bitholla.com.