Good Crypto is an all-in-one cryptocurrency trading and portfolio management app, with a mission to empower crypto traders with advanced tools delivered in a simple intuitive interface.
Available on iOS, Android, and as a web platform, the Good Crypto app enables users to manage their positions 24/7 on 25+ crypto exchanges, and monitor the state of their portfolio in real-time across all supported exchanges and blockchain wallets.
Supported Exchanges
To get started trading with Good Crypto, a user needs to issue an API key from their exchange account and enter it within their GoodCrypto settings. Exchanges supported include:
Binance, Binance.US, Bitfinex, BitMEX, Bittrex, Bitstamp, Blockchain.com Exchange, Bybit, CEX.IO, Coinbase Pro (GDAX), Crypto.com Exchange, Exmo, FTX, FTX.US, Gate.io, Gemin, HitBTC, Huobi (Huobi Global), Indodax, Kraken Pro (Kraken), KuCoin, Kuna, Liquid Pro (Liquid), Poloniex, OKEx, and YoBit.
Crypto exchanges coming soon to the app will introduce Binance DEX, Binance.je (Binance Jersey), Binance.sg (Binance Singapore), Bitbay, Bitcoin.com Exchange, BitForex, Bitkub, Bitmax, Bitso, Blockfolio, BTC Markets, BTC Turk, Bybit, BX (Bitcoin Exchange Thailand), CoinEx, Crypto.com Exchange, Deribit, FTX.US, Gopax, HotBit, IDEX, Mercado Bitcoin, Paribu Bitcoin, Tokocrypto, TradeSatoshi, and Upbit.
Moreover, users can also get real-time market data and track their cryptocurrency balances from Bithumb, bitFlyer, Coinbase, and Uniswap.
Highlighted App Features
Check, compare and monitor market data in real-time – Analyze data for 1,500+ cryptocurrencies. Compare prices in real-time on 25+ crypto exchanges. Screen the crypto market to find the best trading opportunities.
Trade on all crypto exchanges from a single interface – One of the most feature-rich cryptocurrency apps is always in your pocket and ready to trade, allowing you to avoid the inconvenience of constant re-logins and multiple exchange apps.
Track and manage your entire crypto portfolio in one place – Automatically import portfolio history and track holdings in real-time across all crypto exchange accounts and private wallets. Monitor and manage all trading positions.
Unified advanced order types for 25+ exchanges – Ever dreamt of having a trailing stop loss on Binance? With Good Crypto, users can send trailing stop orders to any exchange and attach stop loss and take profit to any order.
Other Features Include…
Ability to check live order books on any supported exchange.
New coin listing alerts for 30 exchanges, including Coinbase Pro and Binance.
Order execution, incoming transactions, price, and portfolio alerts.
Real-time price comparison across exchanges.
Automatic blockchain wallet balance tracking and coin stats for Bitcoin, Ethereum, ERC-20 tokens, Celo, NEM, and Symbol blockchain wallets.
Price and volume tracking of all major cryptocurrencies in real-time, and every coin market cap.
Movement alerts for Decentralized Finance (DeFi) coins.
Real-time Uniswap market data.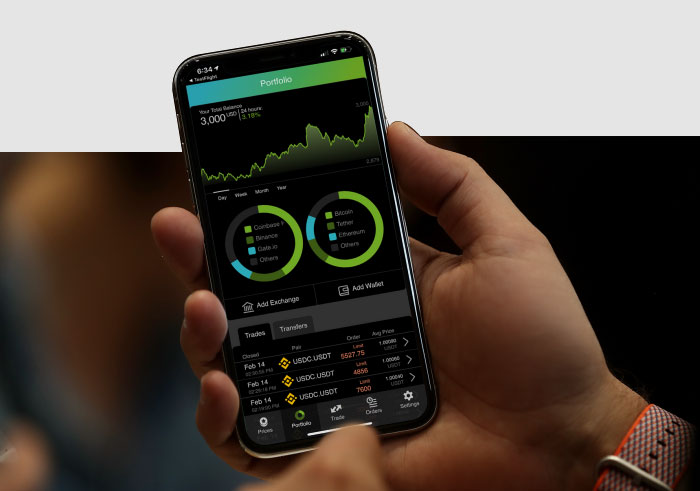 Founders
The team behind GoodCrypto includes co-founders Denis Popov and Maksim Hramadtsou, who've been building advanced high-frequency trading systems for over a decade, having started on Wall Street and expanded to crypto in 2017. The technology underneath the Good Crypto platform is also used to power quantitative trading algorithms that trade a meaningful percentage of the crypto market.
Security
Good Crypto is designed to not have any access to user funds; users never transfer anything to Good Crypto, the app does not require a wallet's private keys and strongly recommends that users disable withdrawal rights for the API keys added to the platform.
In addition, the Good Crypto team designed the app and server infrastructure around cybersecurity and employ best practices to ensure user protection with:
Immediate on-device asymmetric encryption of all APIs keys and user data;
Encryption of all internal connections and separately encrypted and firewalled backend services;
Ongoing self-hosted bug bounty to ensure the maximum level of protection.
Read more about the security of the Good Crypto app on the company's Security page.
Vision for the future from the company Litepaper…

"We see Good Crypto developing into an institutional-grade trading platform available to retail traders; both for mobile and desktop devices. As we move forward, our vision is to become a first-of-its-kind prime broker for retail crypto traders. As a broker, Good Crypto will provide an aggregated order book from all the leading crypto exchanges; creating the largest global liquidity pool accessible via a single account. Smart order routing will guarantee execution at the best available price globally for every order and every trader. Following the standard, set in traditional financial markets, Good Crypto will offer zero trading fees and greatly reduced exchange execution fees…"

To see a detailed overview of Good Crypto, check out the app's Litepaper and Official Website.